How To Care for Your MAZDA CX-5 Interior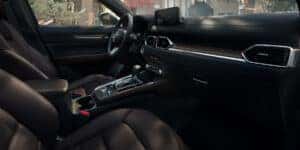 While its performance is thrilling and its exterior attractive, you'll appreciate the many comforts in the Mazda CX-5 interior. Keeping it looking and feeling premium involves a bit of upkeep, just like every other part of your car, so Berkshire Mazda is taking time to cover a few essentials.
Upholstery Maintenance
Maintaining the upholstery of the Mazda CX-5 clean helps to eliminate harmful bacteria and prevents unwanted wear and tear. It also helps to preserve your vehicle's eventual trade-in or resale value. Here's what you'll need to care for synthetic and leather upholsteries:
Vinyl Upholstery: Use soap and water to clean vinyl upholstery. Use as little water as possible so the liquid does not soak through the padding. After cleaning, use a vinyl protectant to keep the seat clean and to prevent fading and cracking of the material.
Leather Upholstery: Vacuum any dust or dirt before taking a soft cloth and leather cleaner to clean the upholstery. Remove excess cleaner with a clean, soft cloth to remove excess moisture and prevent damage to the leather.
We advise ordering Mazda accessories like seat covers from our parts department. They are convenient if you have kids or pets or make frequent trips to the drive-through; remember to remove them and clean the upholstery from time to time.
Floor Maintenance
We recommend all-weather mats for Mazda vehicles since they help protect the floor all year. Whether or not you have them, it's still a good idea to vacuum the car regularly and wash the mats. A stain remover will help with any stray stains.
Visit Berkshire MAZDA for MAZDA Service and Parts
Do you have more questions about the interior maintenance of the Mazda CX-5? We recommend reviewing your owner's manual or visiting our Berkshire Mazda service center. We will be happy to answer your maintenance questions today.