5 MAZDA Service Essentials for Summer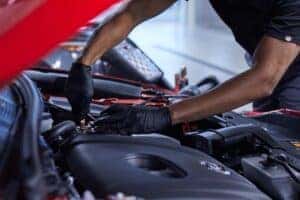 Summer has arrived! For Mazda drivers, it's time to book an appointment for Mazda service. Routine maintenance is essential before hitting the road this summer on road trips, beach getaways, or other adventures, ensuring your Mazda car performs at its best. Berkshire Mazda can address these five service essentials so you can drive confidently.
Test the AC
You will need a functioning AC system for the hot summer weather. Have your car's AC tested to ensure that it's working. The inspection will include the following:
Refrigerant topped off or replaced
The compressor checked for leaks or damage
Cooling fan and electrical system inspected
Check the Tires
Cold weather can cause damage to your tires, which can be disastrous when combined with the higher tire pressure that comes with warmer weather. Before hitting the road, inspect the tires' air pressure and tread depth, also checking for damage or leaks. If necessary, have them replaced.
Top off Engine Fluids
Your car relies on numerous fluids for proper performance. Check levels on each of these, replacing them if they're old and topping off if they're running low.
Motor oil
Transmission fluid
Coolant or Anti-freeze
Brake fluid
Windshield washer fluid
Power steering fluid
Wiper fluid
Test Your Brake System
Warmer weather means more drivers and road hazards, which means your brakes have to be ready for anything. Ensure they are inspected thoroughly, including the brake pedal, fluid, assemblies, hoses, and lines.
Get The Oil and Filter Changed
Motor oil keeps the engine parts lubricated to keep them running efficiently, and the oil filter captures dirt, debris, and metal fragments that get into the oil system. Clean oil keeps your engine running smoothly, healthy, and safely, so make sure it's changed on schedule.
Schedule Summer Service at Berkshire MAZDA
The certified factory-trained technicians at Berkshire Mazda will ensure your Mazda car continues to run its best. Give us a call or schedule a service appointment online today for safer travels all season long.